About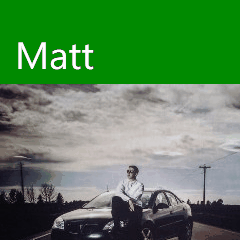 I'm Matt
You could probably figure that out though. I am a graduate of the Lethbridge College of the Multimedia Production program. I'm 20 and I live in the small town of Taber, which is located in southern Alberta, Canada.
I've scraped my hands on many computer cases building from scratch and just getting into the physical guts of the machine. After learning about the physical inner workings I decided to go more in-depth with the software side of the equation. When I'm not busy with my computers and gadgets I try to get out to the garage and get my hands roughed up with woodworking.
I do some freelance work building websites, primarily though WordPress but also work on custom sites (such as this one) as well as some logo and graphic designs.
In a world that never stops it's hard to keep up and that's what keeps me going. What interests me is not so much the final product but how you get there and all the pieces that make it work. As I like to say, "Everything makes sense once you understand it".